| | |
| --- | --- |
| Miros1 | 05-21-2007 12:22 AM |
---
Greg's Sports Bra and Shorts -- Warlokkized! (5/20/07)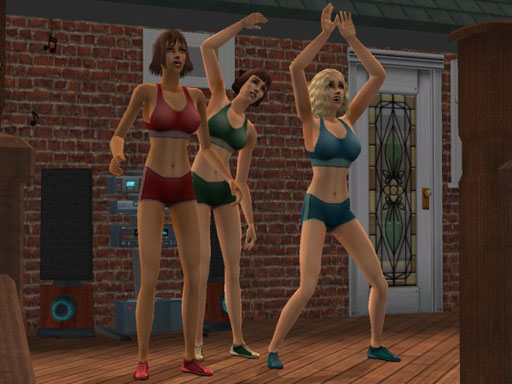 Image by Greg Bennett because I'm too pooped to take my own screen shot. Will put one up tomorrow
Lovely ladies who are "bigger in the business" can now work out in Greg's Sports Bra and Shorts sets, then kick off their sneaks and jump in the pool!
Download key: #2 is green, #3 is blue, #4 is red. The rest of the file name tells you what size the outfit is. All outfits fit Young Adult, Adult, and Elder Women. No, the elder women don't droop!
Warning: apparently my pool area is colder than Greg's...
Greg's original thread:
http://www.hullabaloo.simshost.com/f...pic.php?t=7037
Meshes needed:
MESH_afBody_34Cn-36_SwimwearSporty.package
MESH_afBody_34Ce-36_SwimwearSporty.package
MESH_afBody_34De-36_SwimwearSporty.package
MESH_afBody_34DDe-36_SwimwearSporty.package
MESH_afBody_36DDDe-36_SwimwearSporty.package
Added:
Get the meshes from
Warlokk's Tower
at Insimenator.net. Look for threads with the subject "full body base set." There's a different thread for each bust size so look for all 5 threads if you want the whole set. -- Greg
Addendum to the Addendum
: I suspect there might be "bare tootsie" problems if you use Szielin's conversions of Warlokk's XHi-Res meshes to the numeric sizes. If anyone has this problem, please post in this thread and I'll fix 'em!
Green set: